A New Year, a New Beginning: 8 Real Estate Trends to Expect for 2017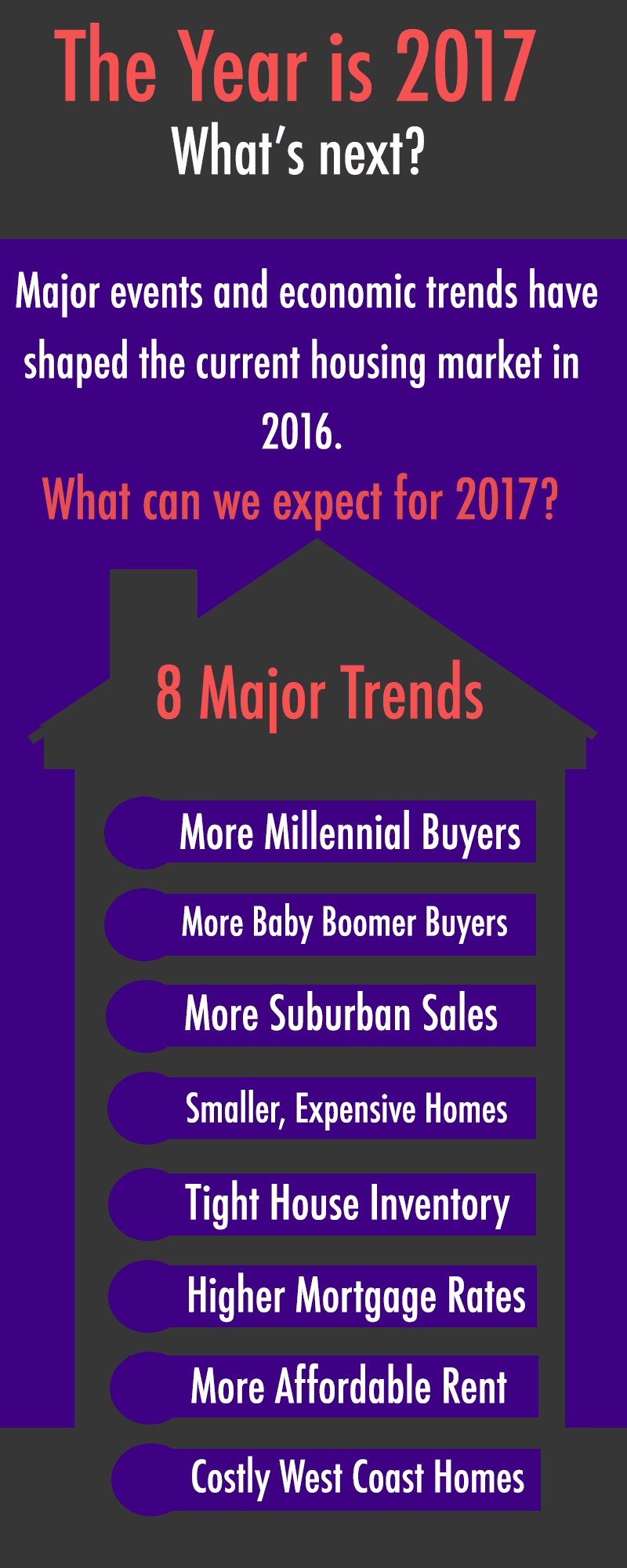 The end of the year opens up new beginnings, including the search for a new home. 2016 has seen numerous factors that shaped the current state of the U.S. housing market, and as we celebrate the year's end, industry experts are already forecasting real estate performance next year. Based on their findings, here are some major trends to expect:
1.)    Millennials as the Prime Target Market
Despite the high cost of student debt, many millennials are starting to pay them down, and this opens up brand new investment opportunities for them. Thus, millennials will continue to be the prime target focus for those looking to sell their properties next year. Realtor.com Chief Economist Jonathan Smoke and Zillow Chief Economist Svenja Guddell highlight this expected trend, especially since the oldest millennials will be hitting their mid-30s—the average age of those who are looking to settle down and buy homes. In fact, Smoke predicts that 33% of 2017's buyers will be millennials. 
A huge factor behind this prediction lies in their spending power. Jessica Lautz, managing director for research at the National Association of Realtors, said that older millennials have saved enough money to purchase homes. As of 2016, the NAR concluded that 17% of buyers under age 35 are able to afford a down payment for houses within the year. 37% would be able to afford it within six months. In addition to savings, the market is favorable to millennials with its currently stable performance and low interest rates.
2.)    Increase in "Baby Boomer" Consumers
Industry experts are also predicting that baby boomers will be entering their retirement years, so many of them will be looking into new homes. In previous years, this particular age group had a low participation in the housing market since many baby boomers already own homes or would rather wait for their properties to recover their pre-recession values. However, this may change, given the new preferences of baby boomers.
"While a sizable number want to downsize to control expenses, we're seeing others move to the biggest house they've ever owned because they've got children and grandchildren and they want those people to come visit," Smoke said.
In addition, Smoke mentioned that many boomers would rather move closer to their families rather than settle in retirement spots like Arizona or Florida.
3.)    Out of the Big City, Into the Suburbs
Many dream of living in the big city, but because of continuously rising prices and the high cost of living, experts in the industry foresee more house transactions in the suburbs where home prices are more affordable. 
"After the housing bust, people were able to move back to the cities because it was much cheaper than a few years ago," Guddell said. "Now, we see people would still like to live close to the city center where they're close to amenities and in walkable neighborhoods, but for the first time they're not able to find enough inventory that's affordable for them to buy."
4.)    Smaller, but More Expensive Homes
 
This past year, home prices went up by 6.3%. According to CoreLogic's latest report, expect a further increase by 5.2% through September 2017. Should this occur, Americans will probably add an estimated home equity total of $1 trillion in their collective balance sheets.
Higher prices, however, does not essentially translate to bigger homes. Due to several factors like unaffordability for entry-level buyers and the higher demand for homes in congested city areas, homes tend to be smaller now. As of this year, the median square footage for new homes decreased for the first time since the recession.
5.)    Inventory will Remain Tight
 This year's productivity in the construction industry may have increased, but numbers show that the inventory continues to remain tight. Homes have been made at about 60% of the normal construction pace. As of last September, total housing inventory increased to 2.04 million—7% lower than September 2015.
It becomes even more difficult to secure homes in major metropolitan areas where the inventory is lower than the national average by 11%. At the same time, homes in metropolitan areas sell faster than the national average by 14%. Experts predict that these trends will carry over to 2017, to the disadvantage of buyers who are already challenged by the limited supply of affordable houses.  
"It's driven by supply and demand," Sam Khater, deputy chief economist at CoreLogic, said, "The lack of affordable supply is really driving up home prices."
6.)    Increasing Mortgage Rates
Since 2008, mortgage rates have been kept at record low levels. Given the signs of a recovering economy and a heating market, the Federal Reserve points out that rates have been increasing and will continue to increase in 2017. For both buyers and sellers, this means that timing is key.
"As a buyer or seller, this essentially points to acting sooner rather than later if you're intending to do a transaction next year," Smoke said, "Rates will get higher as we go through the year, and inventory is not going to improve. So winter or early spring will be more advantageous than waiting for late spring or early summer, when most buyers emerge."
7.)    Rents will level off
Buying homes would certainly leave significant holes on one's wallet. On the other hand, rent—while it does continuously increase by the year—presents itself as the more affordable option. Experts say that this is even more true for 2017. In its latest rent forecast, Zillow predicts that rent will bump up to 1.7% which is already similar to this year's rate. 
"For the first time in quite some time," Guddell said, "Incomes are growing faster than rent prices." 

This is especially good news for the nearly 40% of Americans who prefer to rent rather than buy. Because more multifamily rental units are being built and finding roommates is still a popular practice, supply is slowly starting to meet demand. In effect, rental prices will level off, but this can pose difficulty for those who are trying to sell their properties.
8.)    West Coast prices will continue to rise
According to Smoke, the West Coast is gaining popularity compared to the East since it has produced the most significant job growth since the recession—especially in places like California, Portland, Seattle and Phoenix. Naturally, people would want to settle near their jobs, meaning that population growth will also accompany job growth. Ultimately, this will cause a huge demand for the already tight supply of West Coast houses, leading to prices that are even more expensive than they are now.
Realtor.com provides numbers that project the kind of price hikes that are expected for 2017. Home prices will jump by 5.8%. At the same time, sales will most likely experience a 4.7% increase which is higher than the overall U.S. average.
http://www.marketwatch.com/story/5-real-estate-trends-to-watch-in-2017-2016-11-15
http://www.cbsnews.com/media/9-real-estate-trends-to-expect-in-2017/10/
http://www.thefiscaltimes.com/2016/11/22/10-Real-Estate-Trends-Watch-2017
http://www.realtor.com/news/trends/top-real-estate-trends-2017/