A Year in Review: NYC Real Estate's Biggest Stories of 2016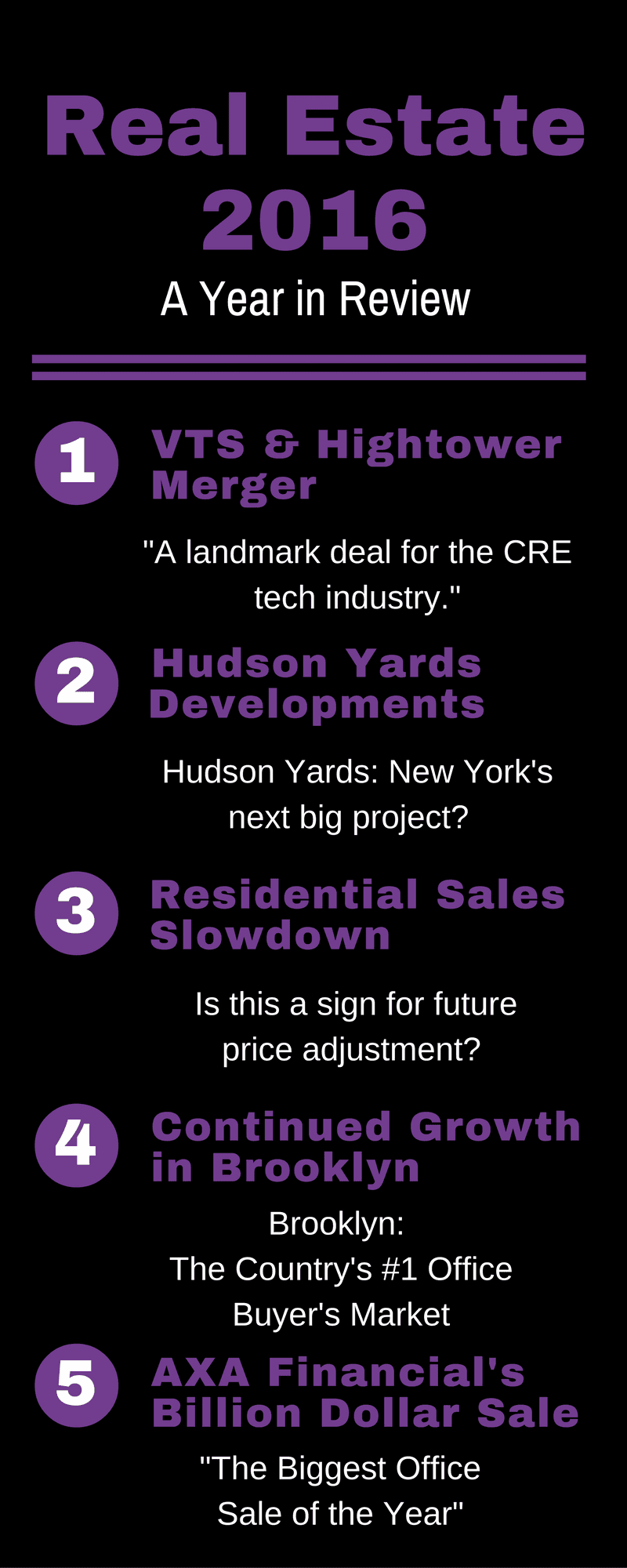 A Year in Review: NYC Real Estate's Biggest Stories of 2016
From new high luxury developments to a real estate mogul for president, 2016 has been a very eventful for real estate. With present signs of economic recovery and a more stable market, people are already looking forward to what's in store for 2017. But, before that, we end the year by looking back at some of 2016's biggest highlights which have gathered the attention of players within the industry. 
1.)    VTS & Hightower Merge
"One plus one equals five," as Hightower CEO Brandon Weber says to describe this year's $300 million merge of VTS and Hightower—considered by many as a landmark deal for the commercial real estate technology industry. Both companies—whose clients include JLL, Cushman & Wakefield, and RXR Realty—offer similar cloud-based leasing and portfolio management platforms which will be integrated to form a product that is said to be better than its two predecessors. The newly formed company will operate under the VTS name, under the leadership of VTS CEO Nick Romito.
"This is the tip of the iceberg for these deals," Zach Aarons, co-founder of tech accelerator and advisory firm, MetaProp NYC, said. As a result of this move, he predicts higher investor interest in commercial real estate tech, the possibility of more mergers in the future and that the newly formed company will start buying different CRE tech startups. To date, VTS is already offering its products to industry startups such as CompStak and Real Data Management. 
As RDM CEO, Peter Boritz, placed it, the merger "is sending a clear message to CRE tech that people want this one-screen experience and better data connectivity."
2.)    The Year of Hudson Yards
As the year comes to a close, we must remember to count our good fortunes. For those involved in the development of Hudson Yards, this would entail extra counting time.
Indeed, this year has been a huge blessing to the large-scale real estate project as one signed deal comes after the other. Some of these transactions include: an on-site power plant, Milbank's acquisition of 55 Hudson Yards for $250,000, Amazon's possibly first brick-and-mortar office and a lease worth $850,000 signed by BlackRock—the world's largest money manager—for 50 Hudson Yards.
The project's momentum isn't expected to fade away anytime soon. With more developments and deals expected in the coming years, it seems that Hudson Yards has become the next big thing in New York real estate.
3.)    Slow down for NYC Residential Sales
While 2016 has been a good year for some, others—especially those who were looking to sell their residential spots—can't say the same. Luxurious spaces and condominiums may have become too expensive, contributing to a major slowdown in NYC residential sales.
The troubling effects are already seen, especially for sellers and developers. Residential projects such as Hallets Point and Astoria Cove are to be placed on hold. High worth properties are being sold for prices far below their asking prices. The questions now are if prices will adjust in the future and if 2017 will be a better year for sellers who have already suffered from this year's losses.
4.)    Continued Growth in Brooklyn
The year ends with Brooklyn continuing to be a favorite among real estate players who look to that borough for further investment and development. With newly opened developments like Forest City Ratner's 461 Dean Street and Acadia Realty Trust's CityPoint in Downtown Brooklyn, it's no surprise that a survey by ULI Emerging Trends named Brooklyn as the number one office buyer's market in the country.
And, with the coming of new rental developments in 2017, it will be exciting to see what Brooklyn has to offer next.
5.)    AXA Financial's Billion Dollar Transactions
Over the year, many commercial spaces have been sold. Special mention, however, should be given to the California Public Employees' Retirement System (CalPERS) which managed to acquire 787 Seventh Avenue from French insurance conglomerate AXA Financial. With Deutsche Bank providing a $780 million loan, the transaction closed early January with an amount of $1.9 billion, making this transaction the biggest office sale of the year.
787 Seventh Avenue is known for housing the U.S. headquarters of BNP Paribas, a French multinational bank, and the famous Le Bernardin, a restaurant owned by Eric Ripert.
 
Through the acquisition, CalPERS intends to focus on income-generating properties, as CalPERS spokesman, Joe DeAnda, mentioned. This is the investment strategy that the company intends to implement, following some heavy losses in previous years.  
In addition, AXA Financial sold 1285 Avenue of the Americas—also known as the Equitable Building— to RXR Realty and top real estate buyer David Werner for $1.65 billion. The finances were handled by AIG and Morgan Stanley who contributed $1.2 billion for the deal.
https://www.bisnow.com/new-york/news/commercial-real-estate/10-biggest-nyc-real-estate-stories-2016-69239
http://therealdeal.com/2016/11/29/vts-hightower-merge-in-landmark-cre-tech-deal/
http://www.bizjournals.com/newyork/news/2016/02/10/axa-financial-building-sold-to-calpers-for-1-9b.html