Suzanne Sienkiewicz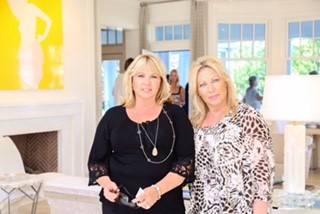 Licensed Real Estate Salesperson
118 Main Street Westhampton Beach, NY 11978

SUZANNE AND LISA ARE A SISTER TEAM
THE PERFIDO TEAM ! Ranked the #2 Team for Nest Seekers Hamptons.
Let our talented team add value to your project, brand it, position it and
successfully sell it out beyond expectations!

Suzanne and Lisa's clients are accustomed to the highest level of service when
buying or selling a home. Let us maximize the exposure of your property and
streamline the search process. Suzanne and Lisa love all the aspects of Real-
Estate finding it challenging and exciting. Not only are you getting one agent to
help in your search process but you have two agents to help make it easier.

Suzanne and Lisa's reputation and impressive sales record is from a family
owned business where there father was a builder and the entire family worked in
the Real-Estate business for over 20 years. They also specialize in Nest Seekers Luxury Division
In the Hamptons and The Gold Coast of Long Island.

Working with Nest Seekers International gives you Global Brokers marketing your property worldwide. We have offices in the Hamptons, Manhattan, Williamsburg, Miami, Beverly Hills and London, plus our website feeds to China. We also appear on the show of Million Dollar Listing. Lisa & Suzanne are both advocates for Animals. We are proud parents of our Yorkie Bentley and donate a generous amount of supplies needed for Dogs & Cats at Westhampton Bideawee.
East End Hospice, Westhampton Beach provides compassionate care for families & loved ones. We are strong belivers of giving back for a great cause.
Mission Statement:
Our Mission:
As a sister team we will go above & beyond for our clients expectations.
Our Vision:
Nest Seekers is a Company that everyone wants to be a part of. It's a Company where everyone is winning from our customers to agents.
Our Values:
Teamwork, Unity, Growth & Exceeding Expectations, Purposeful.
Famous Quotes:
Discipline is the bridge between goals & accomplishment (Jim Rohn)
The achievement of one goal should be the starting point of another (Alexander Grahm Bell)
Most of the important things in the world have been accomplished by people who have kept on trying when there seemed to be no hope
at all. ( Dale Carneige)
http://www.hamptons.com/Real-Estate/Real-Estate-News/19207/Vince-Camutos-75-Million-Hamptons-Real-Estate.html