Vlada Duran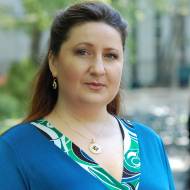 Licensed Real Estate Salesperson
Licensed as 'Vlada J Duran'
505 Park Ave, New York, NY 10022

Vlada exclusively represents buyers and sellers of luxury residential properties in New York City.

A native of the Ukraine, Vlada speaks both Ukrainian and Russian (in addition to English) to aid international clients. She earned a M.F.A and B.A. from the Kiev Governmental Institute for Dramatic Theater and has performed abroad in Europe and locally.

Ms. Duran is a consummate professional who will go the extra mile to ensure a smooth transaction. From marketing your property to mortgage financing and board package presentation, Vlada pays attention to the details. Her vibrant personality also makes finding real estate fun and adventurous.

Let Vlada's knowledge of fine luxury homes be your key to happiness in this wonderful city of New York.