The Real Deal - NYC

By Kathryn Brenzel and Sasha Jones

Aug. 2, 2022
---
Seated at his black marble desk, a large, black-and-white photograph of a roaring lion dominating the wall behind him, Eddie Shapiro was blunt.
"That's insane," the Nest Seekers International founder told one of his brokers over speakerphone.
The agent had secured a $110 million offer for a home in the Hamptons, but the sellers were adamant that they could get at least $140 million. Shapiro disagreed and instructed the broker to arm himself with data and then, with a more delicate touch, remind the sellers about things like inflation and market turbulence.
"For many people, their trophy properties become part of their identity," Shapiro said during an interview at his Park Avenue office.
As CEO of the residential brokerage, which has expanded far beyond its New York City roots — handling high-end listings in Miami, Los Angeles, Aspen, London and beyond — Shapiro must not only navigate the egos of those trading trophy properties, but persuade developers to entrust their projects to his agents. Now in its 20th year, Nest Seekers has an army of more than 1,500 agents across its 30 offices.
Two years ago, the firm suffered a serious loss when Ryan Serhant left to form his own brokerage after helping Nest Seekers become a household name through "Million Dollar Listing New York." Since then, Shapiro has ramped up Nest Seekers' involvement in reality television.
None of its agents have yet come close to achieving the recognition and business Serhant brought to the firm. But in his absence, some have seen their business thrive, and competing ambitions have led to internal clashes.
Shapiro is not fazed, suggesting that conflict and departures are inevitable at any longstanding company.
"Clearly, [Serhant] helped bring Nest Seekers to a more mainstream kind of clientele," said Alessandro Bonati, CEO of mixed-use developer Epire. "But ultimately it's Eddie who created and keeps being the engine behind it."
An "approachable Titan"
When his oldest son, Aiden, was 8 and learning to ski, Shapiro took him to the top of a black diamond slope. Aiden started to panic. Now 19, he recounted his father's response as: "Well, you've got to figure out a way to get down."
"He's tough, but there is always a learning experience," Aiden said in a recent interview. "It's a little chaotic. But he has a plan … he is always methodical."
Chaotic yet strategic energy seems to follow the elder Shapiro in and out of the office. He explains it as a constant need to create, which takes multiple forms: His family's home in the Hamptons is under constant renovation. He is hoping to get a tenant out of his condo at 50 United Nations Plaza so that he can renovate that, too. On a recent family trip to Puerto Rico, he replaced all the lightbulbs in their vacation rental after finding the existing ones too fluorescent.
Shapiro came to New York nearly 30 years ago from Israel, a teenager with a dream of becoming a professional jazz musician. After leaving his home in Tel Aviv, he found a job stocking inventory at an electronics store in the Bronx and rented an apartment from its owner.
He spent much of the 1990s working for small real estate firms before launching his own company, Landmark, then sold his stake and founded Nest Seekers in 2002. He also co-founded a development firm, the Lev Group, with principals from Churchill, a New Jersey-based furniture rental and corporate relocation company. The Kahan family, which owns Churchill, has an unspecified stake in Nest Seekers.
Shapiro, now 46, has grown Nest Seekers from a handful of mostly unknown brokers crammed in a tiny office in Manhattan's Koreatown to a notable, multi-city operation.
Erin Sykes, Nest Seekers' chief economist, described Shapiro as an "approachable titan" who has a "physical, first-person presence in every single market that we operate in."
In a 2012 interview, Shapiro told The Real Deal that he believed the best CEOs are always on the lookout for potential threats — or as he put it, "make sure no one's out there with a big knife trying to take us down."
Asked whether he still feels this way, Shapiro said yes, though he reframed it as an acute attention to detail.
"You got to watch your back," he said. "And you have to see, you know, who's coming from where and how, and when, and watch, count every step and every move."
Shapiro repeatedly said that, despite having helped produce multiple reality television shows, he is a private person. He remains fond of a warning given by Al Pacino's character in the 1997 film "The Devil's Advocate": "No matter how good you are, don't ever let them see you coming."
The somewhat ominous comparisons to movie characters — Pacino literally plays Satan in the film — do not end there. Shapiro's son compared him to Dominic Toretto, Vin Diesel's character in the "Fast & Furious" film franchise, who never forgets a betrayal.
"If you cross him, you might be feeling it for a long time," Aiden said, though he did not offer up any examples.
Shapiro agreed that he has a very good memory, joking that it could "live into the afterlife."
Emerging from a star's shadow
Nearly two years ago, when Serhant revealed he was launching his own brokerage, rumors spread that a spat over a new development had caused the split, though both men denied it.
Agents on the new development team were left in turmoil, unsure of their fate. "Ryan has been kind of silent," said one insider at the time, and Serhant acknowledged keeping the move under wraps, which he framed as a "personal choice." (Serhant declined to comment for this story.)
But Serhant had been a valuable draw for Nest Seekers. In 2018, his team ranked second on TRD's list of the city's top residential brokers, with nearly half a billion dollars in closed sales.
"I didn't necessarily decide to work with Nest Seekers. I decided to work with Ryan Serhant specifically because he was and still is probably the best new development broker in the city," said David Amirian, who in 2016 tapped Serhant's Nest Seekers team to market his Thirteen East + West luxury condo building at 436 and 442 East 13th Street.
Serhant was fourth in TRD's ranking of Manhattan's top individual brokers by closed sales last year, with $338 million. None of Nest Seekers' agents placed in the top 50. But arrangements following Serhant's departure, through which he and Nest Seekers continued to jointly represent some projects, certainly provided a boost: Among brokerages, Serhant's firm was credited with $235 million in Manhattan sales last year.
Serhant and Nest Seekers are similarly working together to market Galleria on Provost, Epire's 84-unit luxury condo project in Jersey City.
Epire's Bonati called the split "a divorce."
"There's two people that love each other very much and then all of a sudden they parted ways, and I think that there is still a lot of mutual respect," the developer said
Sykes, who overlapped with Serhant for a year, claimed she didn't notice much of a shift following his departure.
"​​I think the most important thing and what Nest Seekers, and Eddie, does really well is keep your head in the boat and row," Sykes said.
Nest Seekers now aims to create star brokers whether through TV shows, like "Selling the Hamptons" or "Crazy Rich Agents" in the U.K., or through flashy deals completed by its new development team.
"There was a lot of overshadowing that was happening for a long time," Shapiro said.
Bianca D'Alessio, who was part of Serhant's team between 2017 and 2021 and is now a director in Nest Seekers' new development division, called the star broker's departure a "blessing."
"My business has more than quadrupled," she said.
"People get emotional"
Upon Serhant's exit, Shapiro tapped agent Michael Bethoney to lead the firm's new development division. But after an internal complaint that Bethoney was given to outbursts directed at fellow agents, his role is somewhat ambiguous.
As recently as April, Nest Seekers' website listed him as managing director of new development and a vice president. Those titles have since disappeared, and Bethoney is now listed as a broker.
Shapiro claimed that Bethoney was never in charge of new development and that he himself oversees the division. He would not specify whether Bethoney was demoted.
"Everything is under control, and doing well. And Michael is working his projects," Shapiro said.
Bethoney did not respond to requests for comment.
Asked if he was aware of complaints about Bethoney, Shapiro said the firm's human resources department addresses issues as they arise.
"When you're talking about millions of commissions at stake, people get emotional. People get personal about it," Shapiro said. "And so we work through the issues, and we guide everyone in the right way."
But there have been other complaints. Agent Andrea Sedwick sued Shapiro, Serhant and Nest Seekers in 2015, alleging that they refused to relocate her to a different office away from Ravi Gulivindala, a senior vice president at the firm, who she was dating and who she claimed was physically abusive.
The lawsuit, which has since been settled, accused Shapiro of expressing sexual interest in Sedwick and revoking a job offer when he learned that she was dating another agent at the firm, though the claim itself alleges she lost the job opportunity due to sex-based discrimination.
Gulivindala, who reportedly reached a separate deal to settle criminal allegations that he choked Sedwick at a party, remains an executive at the firm, overseeing recruitment and training. He did not respond to a request for comment.
"I had absolutely nothing to do with the claims nor any of those personal relationships that were ongoing for years between that group," Shapiro said . "I was naturally named in this as CEO of the company to apply pressure on the brand."
Other relationships have soured. Eric Benaim, who was at Nest Seekers for three years before leaving to co-found Modern Spaces in 2008, is involved in an ongoing lawsuit that accuses Shapiro of quietly cutting a deal with a lender at 112-02 Northern Boulevard in Queens, a condo project co-developed with the Lev Group.
The lender allegedly freed Shapiro from his liability for a loan personally guaranteed by him and members of the Benaim family in exchange for Shapiro's help in selling the project's remaining units. This arrangement allegedly allowed Shapiro to avoid liability in other litigation related to the building that has been brought against the developers.
Shapiro called the lawsuit "frivolous" and said the case is close to reaching a settlement.
Over the years, the firm and its brokers have been called out for misrepresenting listings and sales. An investigation by TRD in 2020 found that the firm falsely claimed exclusivity on listings in Miami. Shapiro dismissed the allegation, saying the situation was "blown out of proportion" and that the listings were simply from the Multiple Listing Service.
Last year, when agent Dylan Eckhardt and the firm were criticized for boasting on social media about a $50 million deal in the Hamptons that was actually valued at $16.5 million, Shapiro pointed to the industry standard of announcing the closing with the last asking price.
No regrets
In his Midtown office, Shapiro took a call from Eileen Flannery, who runs operations at his production company, Nest Media. She said catering for an open house in Monaco, which was going to be featured on "Crazy Rich Agents," would cost $7,000. Shapiro balked.
"That's excessive. Bring it under five," he said. "They don't need caviar."
Shapiro expects television to be a significant part of Nest Seekers' brand moving forward, along with endeavors beyond real estate. The firm will soon launch a yacht brokerage on Long Island, having recently secured a license.
Shapiro also envisions an eventual expansion into fine arts, akin to Sotheby's.
In the near term, he hopes to gain more of a footing on the West Coast and in Spain and France, and to open offices in the Middle East. He's also kicked around the idea of franchising the brand.
He said that he has also been approached by private equity firms, but ultimately concluded that "if it's a good investment for them, it's a good investment for us." He is not closed off to future offers, though.
When asked if he has any regrets in the past two decades of business, Shapiro was emphatic.
"You can't have regrets. Did we make mistakes over the years? Of course we did. Everyone makes mistakes," he said. "Every day is a battlefield."
Source: https://therealdeal.com/issues_articles/fast-eddie-rebuilds-the-nest/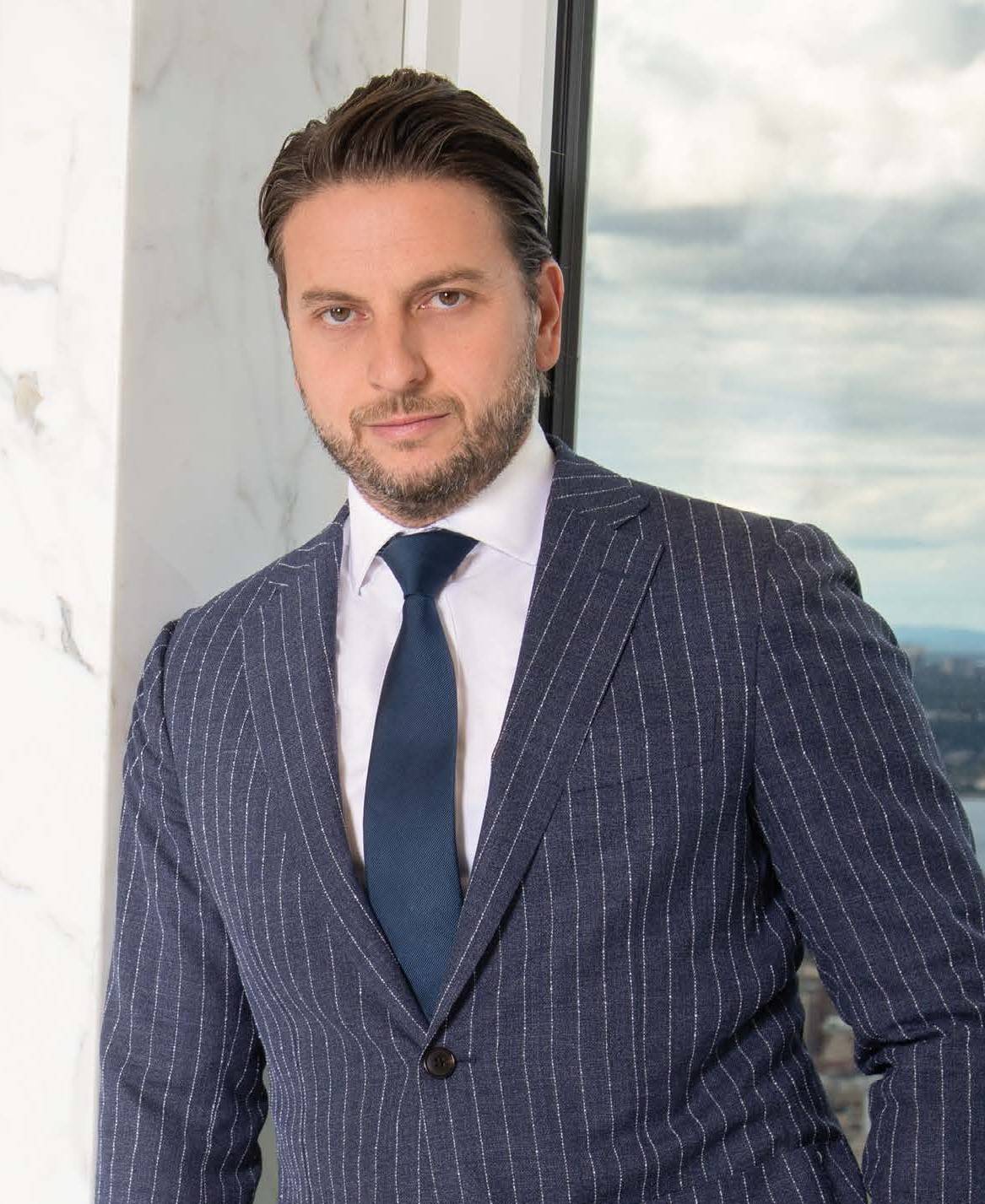 Erin Sykes
Licensed Associate Real Estate Broker (FL, NY & NJ), Nest Seekers Chief Economist, LEED AP